We are happy to announce we completed our first Certified Protection Professional (CPP) study group. This group will provide you the materials, mentors, and instruction needed to prepare you to earn your Board Certification in security, the coveted CPP.
This group was provided the below materials.
Received digital copies of CPP materials to include PowerPoints, sample tests and all 8 volumes of the Protection of Assets (POA)
Learned first-hand from those who have their CPP
Studied the domains and topics in POA's in a structured setting click here 
Gained insight to study and prepare for the test 
Our next round, of this study group, will consist of 6 study sessions to be held on Saturdays 9am-1pm (4 hours each).  This will allow us to provide adequate review time for each POA. Once we get a list of interested participates we will set the start date. 
Sample Schedule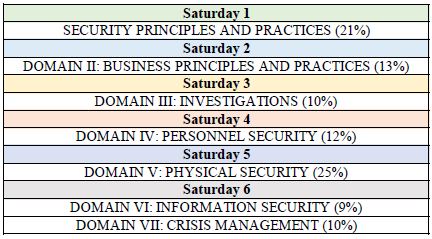 Study Course Cost $75 paid to the chapter which will cover a memory stick per attendee with course materials, light snacks and beverages.
Why Apply for the CPP?
The Certified Protection Professional (CPPⓇ) is considered the "gold standard" certification for security management professionals and demonstrates your knowledge and competency in seven key domains of security. Globally recognized as the standard of excellence for security management professionals. –ASIS International
THE VALUE OF AN ASIS CERTIFICATION 
Enjoy personal satisfaction and professional achievement by:
Validating your security management expertise
Elevating your stature in the profession 
Gaining a competitive edge in the marketplace 
Enhancing your career and earnings potential.
ASIS certificates earn an average of 20% higher salaries than those without an ASIS certification (per ASIS Certification Survey – April 2019)
Broadening experience and training from law enforcement and military backgrounds
THE VALUE OF AN ASIS CERTIFICATION TO YOUR EMPLOYER 
Build a strong, dedicated team committed to high standards and continuing professional development
Promote ongoing enhancement of critical job knowledge and skills
Feel confident that your staff are using best practices
Recruit the most qualified professionals
Reinforce or elevate your organization's reputation and credibility
Click here for more information on the CPP certification 
If you're undecided check out some Certificate Spotlights click here ed
If you are interested in attending the next CPP Review please
The Las Vegas Chapter completed the  CPP study group and we plan to hold another one in the future. We will be looking for CPP's who are able and willing to be presenters and mentors to help deliver the information covered in the POA's. 
This is a fantastic opportunity to pass on your knowledge and experience to those seeking the coveted CPP while at the same time earning valuable CPE points towards the continuance of your CPP.  (we are currently awaiting information regarding how many CPE's will be awarded for your contribution)
The plan is to hold 6 study sessions on Saturdays 9am-1pm (4 hours).  This will allow us to provide adequate review time for each POA. Once we get a list of CPP's and participates that are interested we will set the start date. 
Thank you for your time and we hope to see you at the study sessions.
If you are inserted in assisting the next CPP review, please